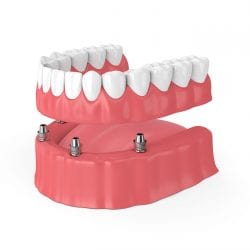 Have you been struggling with dentures? Are you considering restorations but don't know which option is best for you? If you're looking into dental restorations, you may have heard of the revolutionary denture treatment that replaces a full arch of teeth in just one day. With only four tiny dental implants, Dr. Jody Harrison in Asheville, NC can help patients dealing with tooth loss achieve the smile of their dreams.
What Are Implant-Secured Dentures?
All-On-Four, the commercial term for implant-secured dentures, is a treatment that uses dental implants to support a full arch of dental restorations. They are permanent dentures, held in place by strategically-placed dental implants. All-On-Four eliminates messy dental adhesive, white cast on the lips, and the discomfort of removable dentures.
The best part of All-On-Four, besides being completed in just one day, is that you can use them just like you would your natural teeth. They also improve the health of your smile by stimulating jaw tissue production, preventing the sunken appearance some denture-wearers get. You can eat, drink, and speak normally for a lifetime.
Can I Still Get All-On-Four After Gum Disease?
Patients who have had gum disease are often still good candidates for All-On-Four. If the underlying jawbone remains intact, or if any affected areas have been effectively treated, you can still enjoy the benefits of permanent dentures, even after gum disease.
How Do Implant-Secured Dentures Work?
Four tiny dental implants can restore a full arch of permanent dentures. Dental implants are the best solution for missing teeth because they preserve the integrity of the underlying jawbone. Instead of just replacing one or two teeth at a time, your implant-secured dentures can restore a full arch while preserving jaw bone health.
Patients who receive implant-secured dental restorations benefit from the security and confidence of a well-fitting dental restoration that will not slip and does not require special maintenance. This dental restoration treatment can last a lifetime, as implants are the gold standard for missing tooth replacement. Four implants are placed along the jaw bone and temporary restorations are attached to allow the implants to heal. Temporary restorations allow you to return to normal activities, then you'll come back for your final restorations.
Asheville, NC Permanent Dentures
Dr. Harrison offers customized dental implant consultations in our Asheville dentist office. This provides the opportunity for you to learn more about how dental implants can solve your dental problems and restore your smile. To schedule your appointment, request an appointment online or call (828) 202-1706 today.