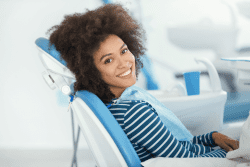 Sick of suffering in silence and shame because you're missing teeth? Discover why a ceramic dental implant may be the best bet to restore your smile and whether you are a good candidate. Periodontist Dr. Jody Harrison of Asheville, NC wants to explain why patients and dentists both prefer this tooth replacement option and explain which patients are good candidates for dental implants.
Who is a Good Candidate for Implants?
An ideal candidate for dental implants will need to possess these factors:
An adequate amount of healthy bone structure.
Good oral health
Healthy Gums
Not all patients are ideal candidates for the dental implant procedure. In that case, Dr. Harrison may recommend another tooth replacement option or recommend other services to prepare the bone, gums, and mouth for dental implants.
Can I Get Dental Implants After Gum Disease?
Even for patients who were previously told they were not good candidates for dental implants, we may be able to implement one of these key services to build a stable foundation for placing dental implants:
Ridge Augmentation: Another type of bone grafting procedure that helps widen the bone graft material.
Bone Grafting: This helps retain bone shape and volume after a tooth is lost. A successful bone grafting procedure helps strengthen the jaw bone, which allows it to support a dental implant.
Sinus Augmentation: This bone grafting procedure adds bone to the upper jaw in the pre-molar or molar area. Adding bone to the upper jaw helps create height in the sinus area to help support a dental implant.
It's never too late to improve your smile and your oral health. Modern dental technology has enabled patients to enjoy the benefits of dental implants and a smile makeover, even after oral health problems. Schedule an appointment with Dr. Harrison online or call our office at (828) 255-8100.