Dental Implants An Overview
Are you missing one or several teeth? Transform your smile with dental implants
Dr. Jody Harrison routinely places dental implants in our Asheville, NC dentist office. Dr. Harrison offers comprehensive treatment planning and periodontal care for patients who are in need of tooth replacement.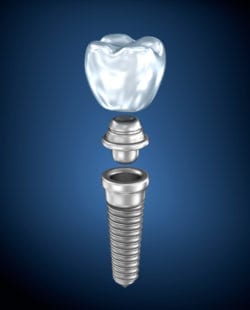 What Are Dental Implants?
There are many ways to replace missing teeth, but dental implants, by far, are the most successful option. Dental implants are a revolutionary tooth replacement solution that not only replaces the tooth root but the visible portion of the tooth as well.
A well placed dental implant can restore your ability to chew, speak, and laugh with comfort and without worry of slippage. Whether your missing one, multiple, or a full mouth of teeth, dental implants can be used to restore your mouth to a more healthy and functional state.
Implant secured restorations offer unparalleled support and stability, which helps restore full function to your smile. They are also designed to preserve your jawbone and encourage regeneration.
Replace One Tooth With Dental Implants: If you are missing one tooth, a single tooth dental implant paired with a dental crown can offer superior results. An implant is designed to fit comfortably and securely in the mouth, providing a long-lasting solution for a missing tooth. This solution looks and functions like a natural tooth.
Replacing Several Teeth With Dental Implants: If you are missing several teeth, an implant-supported dental bridge can replace them all. An implant bridge is anchored to dental implants rather than the neighboring teeth, creating a more stable solution for your missing teeth. This type of solution also preserves more of the natural tooth structure since it does not have to rely on the surrounding teeth for support.
Replacing All Teeth With Dental Implants: For edentulous patients missing a full arch or both arches of missing teeth, implant secured dentures or partials can be the ideal solution for your oral health and aesthetic needs. Traditionally, patients who were missing all of their teeth would receive removable dentures. Although dentures are designed with your specific measurements, they can often slip and over time become inconvenient for many patients. Implant secured dentures eliminate problems like slippage, stabilize and support jawbone growth after tooth loss, and offer patients a long-lasting, stable solution for their missing teeth.
The Benefits of Dental Implants
Dental implants can replace one or several missing teeth as well as support a dental crown, denture, or dental bridge. They offer several advantages over other traditional tooth replacement solutions, including:
Helps prevent further bone loss
A permanent and stable solution for missing teeth
Long lasting results
A naturally functioning solution for one or more missing teeth