Single Tooth Implant An Overview
If you are missing one or several teeth, consider a single tooth dental implant to restore your smile.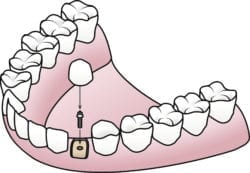 A single tooth implant is used to replace one or more missing teeth. A dental implant is comprised of three parts: the post, the abutment, and the crown. Asheville periodontist Dr. Jody Harrison offers a full range of dental implant services in his state of the art dental office. During your visit, Dr. Harrison will examine your teeth and bone structure to determine if you are an ideal candidate for the dental implant procedure.
If you do not have an adequate amount of healthy bone structure, we may recommend other services, such as bone grafting, to make you a candidate for the implant procedure. As a highly trained and experienced periodontist, Dr. Harrison designs personalized treatment plans based on your specific dental health needs and goals.
Why Choose Dental Implants
Dental implants are considered one of the most successful tooth replacement options because they can provide a complete solution for lost teeth. Dental implants replace both the crown of the tooth, what appears above the gums and the root beneath the gums. This stabilizes your dental health in a number of ways in addition to improving quality of life after tooth loss.
Under the care of an experienced periodontist, patients can restore their smile to full function and can enjoy the optimal benefits that dental implants have to offer.
Benefits of a Dental Implant:
Replaces the tooth root and the visible portion of the tooth
Prevents future bone loss in the jaw
Offers long lasting, natural function and aesthetics
Improved, confident chewing ability and normal speech