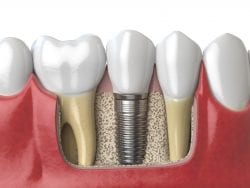 Dental implants are a great option for patients with missing teeth. Designed to blend in with existing teeth, dental implants are strong and long-lasting.
Many people cover their smile because they are embarrassed by a missing tooth or teeth. However, there are multiple options for those who are missing one tooth, several teeth, or entire arches of their teeth.
Steps in the Dental Implant Process
Before the process, Dr. Jody S. Harrison will assess your teeth and whether you need a dental crown, dental bridge, or dentures. Then the process can begin.
First, the titanium dental implant is surgically placed into the spot of the previous tooth.
Over time, the bone around the implant is allowed to heal. The bone grows around the implant through osseointegration or the process of "combining with the bone". This process may take several months for some patients. Other patients are able to have the dental implant and replacement teeth inserted in one office visit.
A dental crown can be used for the implant of a single tooth. Crowns are used to cover implants and give them the appearance and feel of natural teeth.
A dental bridge supported by implants can be used for the implant of several teeth. The bridge is anchored by implants instead of natural teeth. Because implants are made of titanium, they are crafted from a stronger material.
Dentures are needed for the implant and replacement of all teeth. Dentures that are secured in the mouth by implants stabilize the jaw and make it easier for people to chew and use their new teeth naturally.
Dental implants afford patients with improved confidence as well as oral health. When a tooth is missing, teeth may overcompensate and become overcrowded, making it difficult to clean teeth. This may lead to tooth decay or gum disease.
Schedule an Appointment
Dr. Jody S. Harrison & Associates make it their mission to provide patients with professional dental care. If you have missing teeth and require a dental implant or dentures, contact our office at (828) 202-1706 or schedule an appointment with us online here.